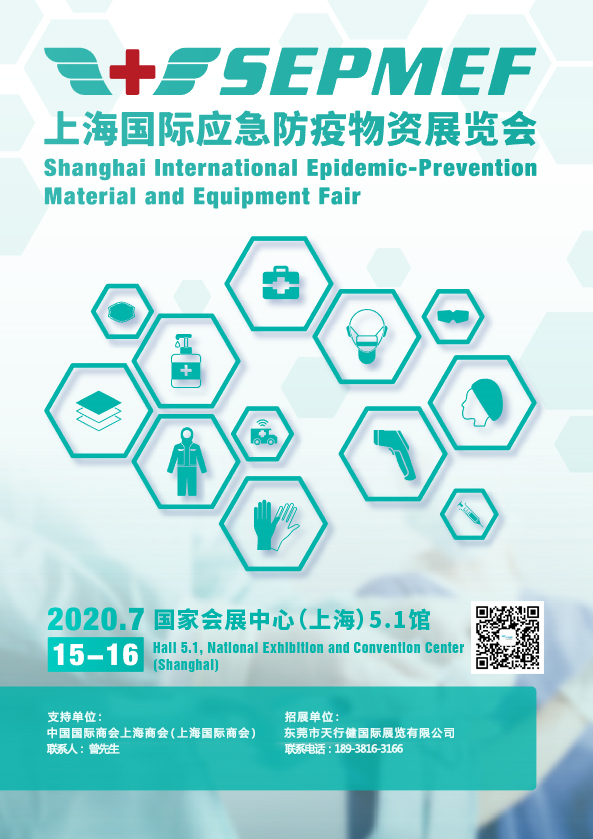 Join hands with Shanghai Chamber of Commerce of China International Chamber of Commerce (Shanghai International Chamber of Commerce), the organizer of Guangzhou international anti epidemic materials exhibition, and invite you to move to Shanghai in July!
Project background
From June 10 to 11, China's first international anti epidemic materials exhibition held by Guangzhou chamber of Commerce of China International Chamber of Commerce (Guangzhou International Chamber of Commerce) was successfully held in Guangzhou Poly World Trade Expo Hall, with an exhibition area of 36000 square meters, 663 enterprises participating in the exhibition and a turnover of RMB 5.1 billion. In two days, nearly 18000 professional buyers came to the exhibition site to visit and purchase.
On this basis, at the request of exhibitors, the organizer of the conference, Shanghai Chamber of Commerce of China International Chamber of Commerce (Shanghai International Chamber of Commerce) and other relevant Shanghai government agencies will jointly hold the Shanghai International Exhibition of emergency and anti epidemic materials at the National Convention and Exhibition Center (Shanghai Hongqiao) on July 15 and 16, 2020.
▶ There are many anti epidemic materials exhibitions. Please identify the authentic products and ensure the exhibition effect!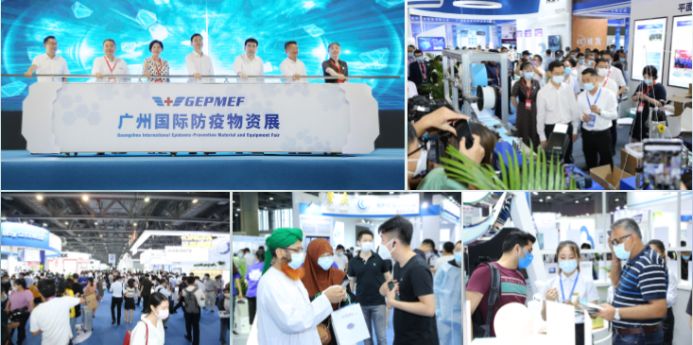 Why do you come to Shanghai?
A kind of The Guangzhou Exhibition was successfully held in June, and the organizer has rich experience in epidemic prevention exhibition. A kind of Shanghai has the largest number of foreign institutions in China, headquarters of foreign-funded enterprises and business associations in China. A kind of With the support of Shanghai municipal government agencies, the work of purchasers has been implemented. A kind of In June, Guangzhou Exhibition helped enterprises to develop the South China market, and in July, Shanghai Exhibition helped enterprises to expand the market in East China and radiate North China.
Supported by Shanghai Chamber of Commerce (Shanghai International Chamber of Commerce) and hosted by Huamao International Exhibition (Shanghai) Co., Ltd., the exhibition aims to create a global supply and demand platform for epidemic prevention materials, and gather relevant enterprises in China, especially those enterprises in the Yangtze River Delta region in terms of raw materials, equipment, production, foreign trade and logistics of high-quality anti epidemic materials, to the whole world At the same time, it is convenient for domestic enterprises, relevant institutions, overseas governments and trade representatives to directly connect with high-quality enterprises, purchase qualified Chinese epidemic prevention materials, improve efficiency, reduce costs and solve their burning problems. In addition, relevant activities can greatly promote the export of relevant materials from Shanghai and digest the relevant products The production capacity of enterprises should be expanded to expand the sales channels of production enterprises, and all circulation links of epidemic prevention and protection materials should be opened up to ease the downward pressure of foreign trade.
The exhibition will also gather certification and testing institutions, and invite the participation of customs and other government departments to help solve the problem of incomplete qualification of some enterprises, answer and deal with the problems of product certification and export qualification from the demander and supplier on site, so as to promote the procurement and export of relevant qualified materials quickly and efficiently.
The exhibition is aimed at domestic local governments, medical institutions and other professional buyers, as well as foreign consulates in Shanghai, business associations, trading companies and foreign-funded enterprises to orderly guide the procurement demand of epidemic prevention materials at home and abroad to the high-quality enterprises on the exhibition site for docking, so as to realize the digestion of production capacity, economic recovery, promotion of foreign trade, demand solving, anti epidemic support and image enhancement The goal of multi-point win-win and multi-party win-win.

Exhibition information
Exhibition Name: 2020 Shanghai international anti epidemic Materials Exhibition
Exhibition time: July 15-16, 2020
Exhibition area: 30000 + square meters
Venue: National Convention and Exhibition Center (Hongqiao, Shanghai)
Exhibition type: professional exhibition, mainly open to professional buyers.
Supported by: China International Chamber of Commerce Shanghai Chamber of Commerce
Exhibitor: Dongguan Tianxingjian International Exhibition Co., Ltd

Exhibition area planning
Exhibition area of epidemic prevention equipment
Mask and protective clothing production equipment, respiratory resistance tester, gas exchange pressure difference tester, temperature and humidity pretreatment box, synthetic blood penetration tester, surface moisture permeability tester, comprehensive strength tester, filtration efficiency tester, etc;
Synthetic blood penetration tester, water permeability tester, triboelectric tester, etc;
Respirator and other respiratory protective equipment (respirator mechanical strength preprocessor), disposable plane mask production line, etc.


Exhibition area of epidemic prevention products
Protective consumables: N95 mask, medical surgical mask, disposable mask, gloves, medical protective clothing, comprehensive respiratory protective device, negative pressure ambulance, negative pressure stretcher, etc;
Disinfection products: 75% alcohol, disinfectant wipes, disinfectant water, hand sanitizers, etc.; mechanical equipment: sterilization lamp, air purifying sprayer, ultraviolet lamp car, disinfection channel, etc.
Diagnostic supplies: forehead temperature gun, thermometer, hand-held infrared thermometer, thermal imaging rapid temperature screening instrument, diagnostic reagents, etc.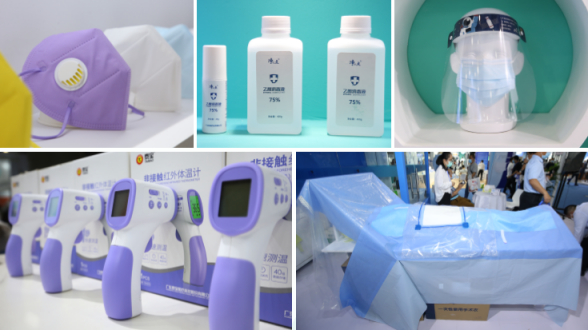 Raw materials exhibition area
The production raw and auxiliary materials of epidemic prevention materials such as melt blown fabric, non-woven fabric and nose beam strip were displayed.


Comprehensive service area
Major certification bodies, diagnosis and testing institutions, customs clearance, warehousing and logistics, supply chain finance, it services, and other services related third-party service enterprises.


Exhibition feature
1. A global comprehensive service platform integrating the whole industry chain of epidemic prevention, product technology, procurement trade, brand communication, scientific research cooperation, academic forum and so on.
Under the premise of security measures, the exhibition is expected to invite more than 500 relevant exhibitors, thousands of government procurement agencies, overseas business associations, trading companies and foreign-funded enterprises, import and export traders, agents of overseas enterprises in China, hospital buyers and dealers agents and other professional visitors to visit and exchange experience.
Due to the development of the epidemic situation, the overseas demand for epidemic prevention materials has increased significantly, and online restrictions on the receiving area, time difference, and contract conditions, face-to-face inspection, inquiry and price comparison can stabilize the confidence in trading and signing contracts, whether it is dealers or purchasers.
2. Shanghai municipal government agencies participate in the exhibition, and organize East China professional purchasers to connect with exhibitors, which has credibility with overseas buyers and the government. At the same time, we will strictly select qualified compliance enterprises, increase the trust between buyers and sellers, and reduce the confusion of intermediate information.
Professional audience and purchasers include consulates in Shanghai, business associations, Family Planning Commission, Red Cross Society, charity, Health Bureau and other government agencies, hospitals of grade three and above, medical associations, public health and health research institutes, medical equipment, medical supplies, inspection and other related associations, professional markets, import and export traders and other related companies, chain pharmacies, and daily necessities suppliers Stores, logistics, warehousing and other third-party supply chain companies.
3. Professional forum activities at the same time to create the most authoritative and professional training and exchange platform
As an industry platform to promote the healthy circulation and linkage development of the industry, the exhibition shows the industry's responsibility in the uniqueness, professionalism and academic nature of the special eye-catching activities. All kinds of novel coronavirus pneumonia products are exported to Europe and the United States, and the relevant certification requirements and the demand for materials purchased are also introduced.

▶ Anti epidemic situation of service enterprises: export of epidemic prevention products, interpretation meeting of overseas market access policy and export practice training
▶ Buyer's on site order meeting

Exhibition mode
Guangdong Tianxingjian International Exhibition Co., Ltd
Contact person: Miss Liang
Mobile phone and wechat: 189 2682 7091
Contact person: Mr. LAN
Mobile phone and wechat: 1857636 0220
Address: room 408-411, Nancheng science and technology building, 16 Jianshe Road, Nancheng street, Dongguan City