| | |
| --- | --- |
| Name | Hanoi International Footwear, leather and Industrial Equipment Exhibition |
| Place | Hanoi International Exhibition Center, Vietnam( I.C.E .) |
| Date | September 16-18, 2020 |
| Cycle | Once a year |
Exhibition introduction
Vietnam's footwear and leather industry is on the rise and has become one of the countries with the most free trade agreements in Asia. The first new shoe leather exhibition will be held in Hanoi International Exhibition Center, the capital of Vietnam( I.C.E ) and will be one of the most popular and forward-looking exhibitions in the ASEAN market, providing a one-stop product display and business platform for the footwear and leather industry, and also an opportunity to enter the Asian market and establish contact with markets around the world. Exhibitors are from 15 countries and regions, such as Brazil, China, Czech Republic, France, Germany, Hong Kong, India, Indonesia, Italy, South Korea, Mexico, Singapore, Spain, Taiwan, Turkey and Vietnam. It is estimated that more than 7500 buyers will come from more than 20 countries and regions.

Overview of Vietnam
Vietnam is the second largest footwear export country in the world! In 2018, Vietnam's footwear and luggage exports reached one hundred and ninety-six point three US $billion, up from 2017 9.3% Of. In the first six months of 2019, the export amount has exceeded one hundred and three point three Billion US dollars, up year on year 12.7% , making Vietnam one of the four largest footwear exporting countries in the world. Hanoi is the economic center, the main economic driving city and one of the largest export cities of Vietnam. Most of the factories in the north of Vietnam are concentrated in Hanoi. Meanwhile, new shoe production and shoe material suppliers have set up factories in the north of Vietnam. Vietnam has become the second largest footwear export country in the world. Now it exports about 1 billion pairs of footwear every year, and the global demand for leather and footwear is close to 23 billion pairs.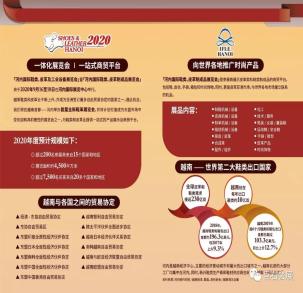 Market analysis
Since the 1990s, Hanoi's industry began to develop rapidly. The average annual growth rate of industrial GDP was from 1991 to 1995 19.1% 1996-2000 15.9% 2001-2003 20.9% 。 In addition, there are 8 industrial parks, 5 large industrial parks and 16 small and medium-sized industrial clusters under construction. According to the statistics of March 2007, there are 48000 private enterprises. Hanoi has its own industrial system, with machinery, chemical industry, textile, sugar, cigarette and other industrial sectors. Among them, machine manufacturing has become the National Center. For example, Hanoi machine manufacturing plant can produce all kinds of high-precision master machines and new agricultural machinery to supply the whole country, making Hanoi a production City instead of a consumption city.
Economic experts said that in the first nine months of this year, the total amount of foreign capital flowing into Vietnam exceeded 26 billion US dollars. This result shows that Vietnam has become a large-scale production center in Asia and a hot investment destination chosen by various transnational groups and enterprises.
According to Singapore economic experts, Vietnam is one of the fastest growing economies in Southeast Asia and an important strategic market for many enterprises. Vietnam's production industry has a strong attraction for foreign enterprises. The expert said that the trade war between the United States and China continues to escalate, so companies are still diversifying their markets and shifting production activities to Vietnam in order to reduce risks.
Trade is another major pillar industry in Hanoi. In 2003, Hanoi had 2000 foreign trade companies and established trade relations with 161 countries and regions. The average annual growth rate of trade volume in Hanoi from 1996 to 2000 is 11.6% 2001-2003 9.1% 。 The economic framework is also undergoing an important transformation, with modern tourism, finance and banking gradually occupying an important position. The traditional business district of Hanoi is HuanJian district and its surrounding areas, and the newly developed business district is the southwest Zhonghe and renzheng areas.
It is reported that the industry will increase the use of locally produced materials in its products, accelerate the use of new technologies and refurbished equipment, and focus on trade promotion activities and training personnel. Vietnam's footwear products have been exported to more than 100 countries. The five major markets of the United States, the European Union, China, Japan and South Korea account for more than 82% of Vietnam's total footwear exports. Vietnam's footwear exports to the United States increased by about 10%, while exports to China, South Korea and Japan increased by more than 20%.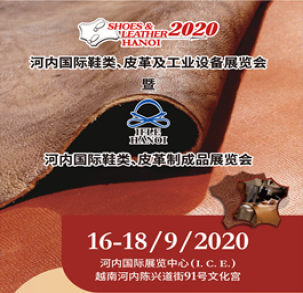 Exhibition content
1. Footwear: raw leather / leather, synthetic leather, men's / women's / children's shoes, sports shoes / safety shoes, etc;
2. Mechanical equipment: shoemaking machinery / equipment, leather machinery / equipment, leather machinery / equipment, sewing machinery / equipment, chemical industry, technology / service, etc;
3. Fashion accessories and leather bags: handbags / bags, leather products, fashion accessories, accessories / components, etc.
Way of participation: interested enterprises please contact: 18926827091